20 Most Promising Managed Services Providers - 2018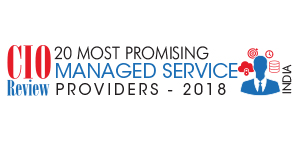 Information technology is an indispensable part of any business. However, the fact is, IT for many businesses is not a core function, but an enabler. Thus, it will not be unreasonable to say that not every business will have the necessary skills and resources to handle all IT activities. The best any business can do here is, outsource their IT activities to the experts. This also is the most appropriate and cost effective measure. And therefore, Managed Services have a clearly quintessential role to play for the growth of many non-IT businesses. The global managed services market was valued at USD 155.91 billion in 2017, and is expected to reach USD 296.38 by 2023, witnessing a CAGR of 11.32 percent during the forecast period, 2018-2023. The global managed services market is expected to witness keen interest in information services and managed mobility. There has been a shift in focus toward managed services and their applications for both short-and long-term strategic decisions. As managed services enable a company to access enhanced applications and services that could not be possible in-house, it helps them to target their core strategic area, while outsourcing the rest of the tasks to the service providers who possess the operational expertise in that domain.
We understand the emerging trends and need for outsourcing IT infra requisites and therefore we bring to you 20 Most Promising Managed Services Providers 2018. Being closely scrutinized by a distinct panel of judges including CEOs, CIOs, CXO, analysts and CIOReview editorial board we believe that these MSPs will help organizations meet the infrastructure demands, and trends and better manage their core business without worrying about IT processes.
We present to you CIOTechOutlook 20 Most Promising Managed Services Providers - 2018.
Top Managed Services Providers
| | |
| --- | --- |
| Airowire Networks | Provides consultation services related to design, implementation, management of LAN, WAN and wireless networks. |
| AKP Consultants | Delivers comprehensive services such as IT infrastructure management, facility management, cloud computing and project management. |
| Byte Technosys | Avails IT infrastructure management services like remote server monitoring & management and remote desktop support. |
| Energy Soft Solutions | Offers consultancy & solutions for IT infrastructure, digital marketing, energy auditing & management, software services and training & placement services. |
| Experis IT India | Caters application management & maintenance, data center services telecom, business applications infrastructure managed services and end user support services. |
| i2k2 Networks | The folio includes dedicated servers, cloud hosting - public, private & hybrid, datacenter services, business email solutions and managed IT services. |
| Inspira Enterprise | Renders comprehensive range of IT, networking, system integration & ERP software services and security solutions. |
| Netmagic Solutions | Specializes in infrastructure management services, cloud computing services, IDC & managed hosting services, messaging and collaboration services and managed security services. |
| Netsol | Provides server solutions such as remote server monitoring, remote server management at competitive rates. |
| Polestar Consulting | Enables IT consulting, digital solutions, services delivery, and infrastructure management services. |
| Power IT Services | Focuses on offering services around software development, mobile applications, web services, IT management and security management. |
| Probox | Delivers a comprehensive portfolio of ICT services & solutions comprising infrastructure monitoring, incident management and network management. |
| Qtek IT Consulting | Expertise revolves around IT service management, IT asset management, backup, security, virtualization and software licensing. |
| SanSol | A provider of multi-vendor, multi-technology IT service solutions covering the complete lifecycle of installed-based enterprise hardware. |
| Sify Technologies | The managed services include a wide variety of telecom, data center, cloud, collocation, network & data security, consulting and end-to-end application solutions. |
| SKYBERTECH | Provides IT Consulting Servuces including Virtual CIO, professional technology consultants, IT auditing and IT planning. |
| Solid Systems Global | A provider of multi-vendor, multi-technology IT service solutions covering the complete lifecycle of installed-based enterprise hardware. |
| TRIO IT Services | Facilitates solutions and services for infrastructure management, maintenance& monitoring, IT infrastructure security and automation. |
| Vserv Infosystems | An IT Services and System Integration company providing end to end IT solution with advanced technology solutions in the field of IT Infrastructure Support, Networking and Security. |