20 Most Promising Managed Service Providers - 2016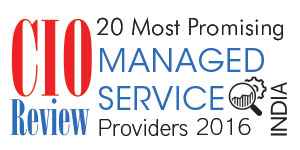 Information Technology is an indispensable part of every business. However, IT for many businesses is not a core function, but an enabler. Thus it'll not be unreasonable to say that not every business enterprise will have the necessary skills and resources to handle all IT activities. The intelligent step and more importantly cost effective step to take here is to outsource your IT activities to the experts. And thus, meeting this market need is Managed Services which is growing at a tremendous pace. Businesses have reported a significant fall in the recurring in-house IT cost and a growth in the efficiency as a direct result of the outsourcing of IT functions to managed services.
On the basis of the type of service it provides, the managed services market can be divided into Managed Data Center, Managed Network, Managed Mobility, Managed Infrastructure, Managed Communications, Managed Information, Managed Security and other managed services. Managed services appear as an alternative from the break/fix model. It is witnessing an accelerated growth due to the penetration of technologies like mobility, cloud computing and big data. Among the chief drivers of this market is the enhanced customer satisfaction. Research reveals that customers of cloud services are already reaping the benefits of lower cost, better service availability and agility. The SMB segment is most benefitted by this service than any other.
CIOReview India presents to you "20 Most Promising Managed Service Providers". This is a list of service providers who caught our attention due to the outstanding quality of the service they provide. A distinguished panel of CEOs, CIOs, industry analysts and the CIOReview editorial team have closely scrutinized and nominated the vendors who in our opinion are revolutionizing the Managed Services Market.
We present to you CIOTechOutlook 20 Most Promising Managed Service Providers - 2016.
| | |
| --- | --- |
| Arc India Digital | A provider of managed print platform and services, offset services, graphic installation, CAD print services, artwork and typesetting and more. |
| BoldLane Techsol Private Limited | A provider of managed IT servcies, audit, consulting, virtualization, desktop virtualization, security services and more. |
| Byte Technosys Pvt. Ltd | A provider of manged IT services with specialization in Remote Infrastructure Management (RIMs) and On-Site Support. |
| Cloudstrats Ltd | A provider of remote and onsite managed services,switching, routing, network cabling, exchange management, IT upgrades and migration and more. |
| ELPEE Managed Print Solutions | A provider of managed print solutions, installation, implementation, end to end solutions for the laser printers & multi-function printers, security solutions and more. |
| GAVS Technologies | A provider of data centre services, security assessment and audit services, service desk management, desktop management. |
| Herald Logic | A provider of sales performance management platform, services and solutions, installation and implementation, channel & distribution management management. |
| Hyntech Business Solutions | A provider of managed services in desktop computing, deployment, patching, maintenance, security services, disaster recovery and more. |
| IISGL | A provider of managed IT, infrastructure, hardware, line-of business applications, cloud services and more. |
| ITPC India Pvt. Ltd | A provider of SAP Technology managed services, installation, upgradation, migration, cloud managed services and more. |
| McAfee | A provider of internet security managed, hardware, software and cloud services for servers, networks, virtual environments, and mobile devices and more. |
| Pi Datacenters | A provider of managed Services, cloud services, hosting services, colocation services, disaster recovery service, industry solutions and more. |
| Seclabs & Systems Pvt. Ltd. | A provider of security assessment services, analysis in forensic science, training services, anti-piracy services and more to the government, public & private, and non-profit sectors. |
| ServerBasket | A provider of Managed Dedicated Server Hosting, Managed Linux VPS Hosting, Managed Windows VPS Hosting, Managed cPanel Hosting and more. |
| Solutions Enterprise Pvt. Ltd. | A provider of IT managed services, networking & security, IT outsourcing and consultancy, remote support, WAN optimisation, virtualisation, systems integrators, compliance management, DNS, DHCP &... |
| Suncom Infotech | A provider of managed It services, IT security, application solution services and more. |
| Syndicate Information Technologies India Pvt. Ltd. | A provider of onsite maintenance, remote monitoring, remote support services, technology review, planning and more. |
| Telstra Global | A provider of managed network services, security consulting, video monetisation services, secure cloud platform services, digital transaction management solution and more. |
| Uniserved | A provider of internet, home phone and web products for home and businesses, web hostings and support and more. |
| Vega Project (India) Pvt. Ltd. | A provider of provider in pro AV/IT industries specializing in Video Conferencing & Collaboration, Audiovisual Systems Integration, Network Television, Unified Communications and more. |